QUICK LINKS
Mission Statement
Rental
Administration
Coworking
Events
Membership
News and Reviews
Festival 2020
Festival 2019
Festival 2018
Festival 2017
Festival 2016
2009 Yearbook
Soccer
Soccer Tournaments
Archery
Golf
Tennis
Olympiad 2008
Comments
Links
Maps
Contact Us
UKRAINIAN AMERICAN SPORT CENTER TRYZUB
Lower State & County Line Roads
Horsham, PA 19044
www.tryzub.org
THE ENDLESS SUMMER AT "TRYZUBIVKA"
By: Eugene A. Luciw; info@tryzub.org
Horsham, Pa. - - Tryzubivka's festival grounds, clubhouse, sports pub, and forty-two beautiful acres of parks, streams, picnic groves, and natural and artificial turf sports fields, beckon to be a part of your Ukrainian Summer. Become a club member for only $25.00 annually ($35 for a family membership). Enjoy a cascade of heritage, cultural, fraternal and sporting events throughout the spring, summer, and early fall. Tryzubivka's banquet hall, meeting rooms, catering service and festival grounds are also available to members for rental at a reasonable price.
An LED lighted, full-sized artificial turf soccer-football field, built to NCAA specifications, accents the high quality of Tryzub's soccer program, even as Tryzub's prestige and presence in the sports world of the Delaware Valley and beyond continues to grow.
See www.UkrainianNationals.com. Notably, the Philadelphia Ukrainian Nationals Boys 14s through 19s teams continue to compete in the Elite Development Program (EDP) of the National Premier League Division.
Several of Tryzub's boy's and girl's teams won the State Championship last season, while one of them went on to win the Region One championship and proceeded to the final four for the National Championship. Ukrainain National's teams regularly compete in and win any number of tournament and cup championships, such as the Jefferson Cup and the FC Europa Cup, throughout the year.
Tryzub's adult Women's Major's and two adult Men's Major's Teams continue to compete at a very high caliber and are again contenders for the Philadelphia International Unity Cup.
Tryzub teams have carried Ukraine's flag and hallowed emblem onto fields of championship play throughout the United States and abroad.
Featured Events
The most popular community event – over 3000 now attend -- at the Ukrainian American Sport Center – Tryzub, is the Ukrainian Independence Day Festival, Outdoor Summer Concert & Zabava – Dance, scheduled for Sunday, August 25, commencing at noon, in Tryzubivka's luscious fully shaded festival glade. Ukrainians and other Americans from throughout the Philadelphia Metropolitan area and well beyond attend this featured event that celebrates Ukrainian culture, as well as Liberty and Unity.
In order to celebrate the 28th Anniversary of Ukraine's Independence, the artists (dance troupes, musicians, singers and ensembles that have performed in previous years) are again creating a fresh, dynamic and integrated collaborative program. Voloshky and Iskra Ukrainian Dance Ensembles, for instance, will perform as one, sharing each other's resources and premiering fresh works. The music and live violin play of Innesa Tymochka Dekajlo will be integrated into the program as will the refreshingly vibrant music and song of the Vox Ethnika and Ariana Lem Joy Trio Ensembles.
The ever-popular Korinya Ukrainian Folk Band and the Na Lemkovyni vocal ensemble will be the special guest stars this year.
A Zabava - Dance to the tunes of the Vox Ethnika Orchestra will follows the concert. Arts and crafts vendors, children's recreations and Ukrainian foods, picnic fare, desserts and refreshments will be abundant. (See ad on pg. __ for details).
On Sunday June 16, at 1:00 P.M., Tryzub will hold its popular Father's Day Fest (Free Admission and Parking), a family-oriented picnic event that features the Philadelphia area's Voloshky School of Ukrainian Dance, Accordionist Ivan Zhytnikov, the Soloveyky Vocal Ensemble the Swords of Kobzars Bandurist Quartet, and other excellent younger singers, dancers and musicians. A Zabava-dance to the unique, versatile music and song of Ihor Sypen follows. Food and refreshments will be available throughout the day.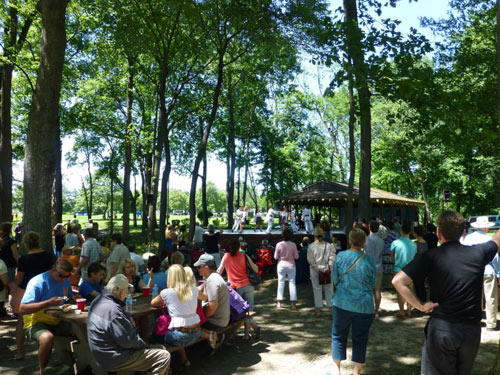 Over that entire Father's Day weekend, Tryzub will host (also without admission for spectators) the US Adult Soccer Association's Region I US Open and Amateur Cup National Championship games. With the US divided into four regions these are effectively the quarter-final games for the outright American championships in the Men's, Women's, Men's over thirty and Men's Under 23 categories. At least two of the Men's Finals games will be held Sunday afternoon, during the Fest.
Over Memorial Day Weekend, on Saturday evening, May 26, Tryzub members as well as all guests and families participating in the Memorial Weekend youth soccer tournament are invited to attend an outdoor family-oriented parents' appreciation picnic under the stars. There is no admission fee; enjoy an array of live music by popular local bands, social dancing, food, refreshments and fraternity. There will also be a commemoration ceremony for the memories of our fallen heroes, even as the tournament financially, and as a matter of awareness, supports the Travis Manion Foundation, an organization dedicated to assisting our heroes and their families and to challenging our youth proactively to volunteer and to perform works of charity.
A similar event will take place, on Saturday evening, October 12, as part of Tryzub's Columbus Cup girls' soccer tournament. Significant proceeds from this tournament will support the Fox Chase research center for Breast Cancer, even as Tryzub will again raise awareness about this tragic illness and the fight to eradicate it.
Sports
Adult and youth players and sports fans can enjoy a vast array of sporting opportunities at Tryzubivka. Tryzub graciously invites all Ukrainian soccer players to join one of its now over 50 youth and junior soccer teams in all age brackets, boys and girls, its adult male and female Majors Division soccer teams, or one of its over 30 and over 40 squads. Pick-up games are also in abundance throughout the season. See: www.UkrainianNationals.com
Tryzub also invites Ukrainian club and non-Ukrainian teams to participate in either of two immensely popular soccer tournaments: Memorial Weekend youth soccer tournament scheduled for Memorial Day Weekend (May 24-26); and the Columbus Cup girls' soccer tournament (October 11 - 13).
Throughout July and August, Tryzub's staff of expert coaches and counsellors will also be offering a number of soccer camps at Tryzubivka. In the Fall and Spring, Tryzub offers our youth, not only experienced, developed players, but also younger players and novices, an opportunity to hone their skills through a Soccer Academy. Placement onto appropriate soccer teams is also a goal of the process. Visit the website for all of the details about these camps and the Academy. www.UkrainianNationals.com
In the Fall the Philadelphia Ukrainian Nationals – Tryzub will field an adult men's team to "represent" Ukraine in the fourth annual "Philadelphia International Unity Cup" soccer tournament. The competition will again be patterned after the World Cup. Local college fields and NCAA level referees will be used, while the championship game will be played at Lincoln Financial Field (home of the Super Bowl Champion Eagles) amidst an international music, song, dance and food festival.
Soccer families and other fans can enjoy games at Tryzubivka throughout the weekends of the season. The Majors Division games are particularly popular on a Sunday afternoon, at 2:00 P.M. The soccer season opener games on Saturday and Sunday, September 6 and 7, like the Ukrainian Nationals Family Day Picnic on Saturday, September 21 are particularly good days to enjoy great soccer.
Other athletes can join Tryzub's golf team or its archery team. The archery and golf squads regularly compete in league play at the Bucks County Fish and Game Association and the Limekiln Golf Club, respectively. The archery team also competes regularly in nationally and internationally sanctioned indoor and outdoor tournaments and in recreational outings such as 3-D archery and Archery Golf.
40th Golf Outing: Low Gross Team Best Ball Champions: Joe Nguyen and Keith McGovern 1st and 3rd from left pictured with Joe Homick and Bohdan Anniuk (2nd and 4th); missing are: John Nguyen and Liam Pham.
Tryzub offers all golfers in the Ukrainian community a fun-filled reasonably priced golf outing and banquet on Saturday, June 1. The entry fee includes greens fees, a cart, food, refreshments, and valuable door prizes and gifts. Trophies are awarded as well.
You can learn more about beautiful Tryzubivka and the opportunities it offers the community at www.tryzub.org and at www.ukrainiannationals.com . The Club is located at Lower State and County Line Roads, Horsham, Montgomery County (Northern Suburbs of Philadelphia), PA.